//= wp_get_attachment_image($images['ID'], "generic") ;?>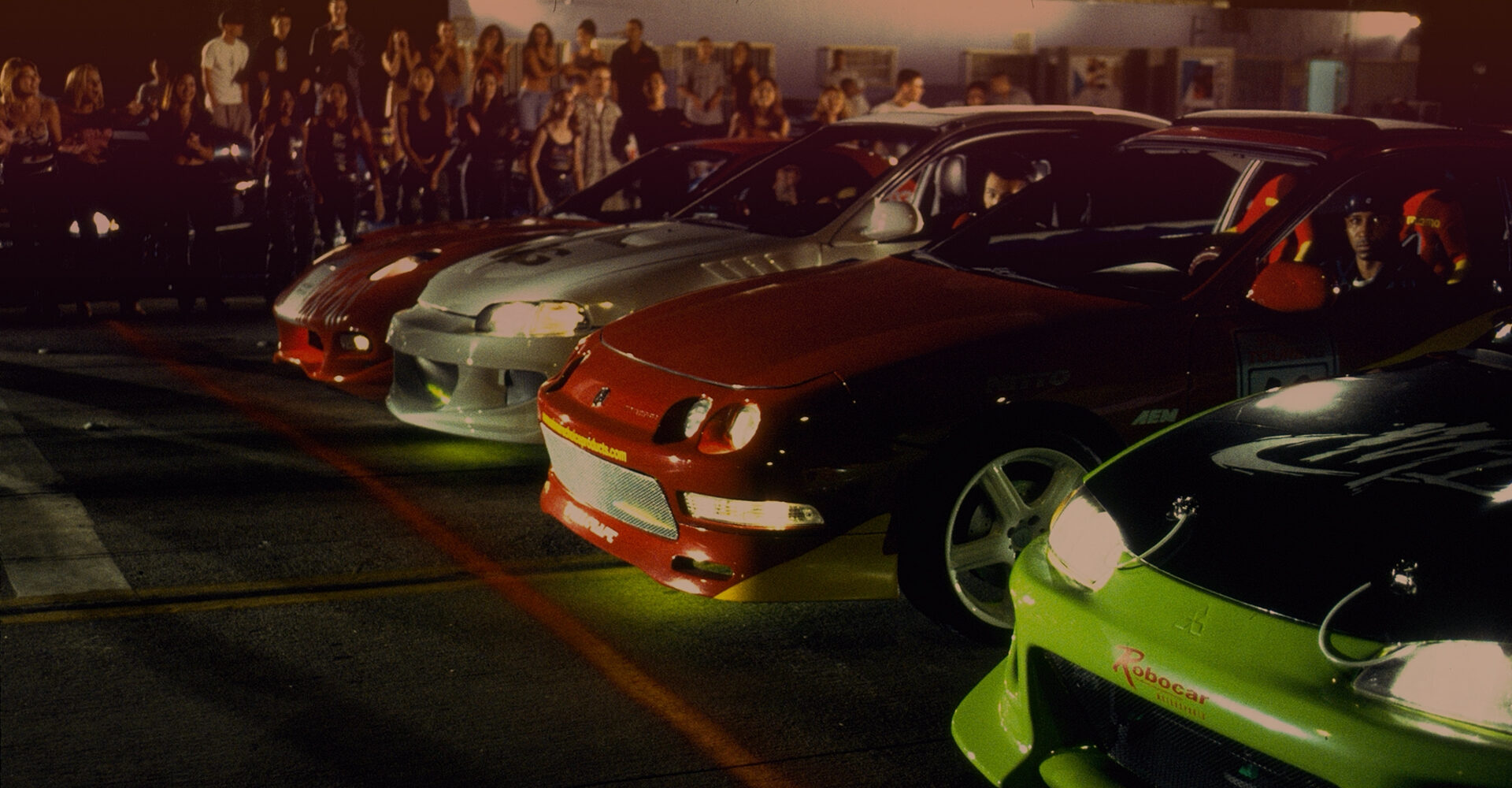 //= wp_get_attachment_image($mobileImage['id'], "generic-mobile") ;?>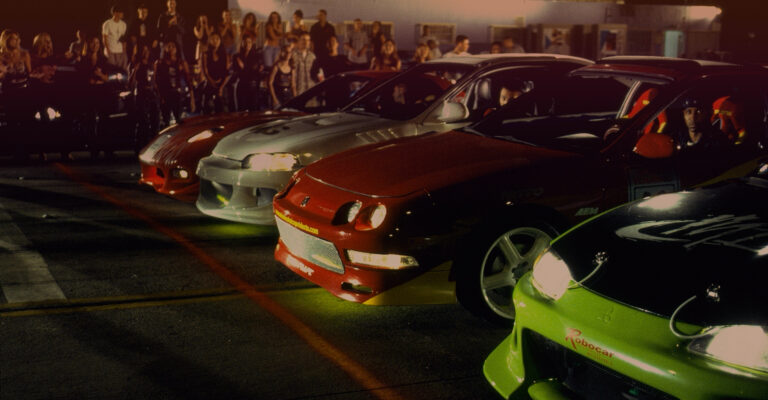 Top 10 Car Movies for Adrenaline Fans
The Best Car Movies of All Time
If you love to feel like a speed demon, check these feature films that will put you in the mood.
Who doesn't love a great car movie? There's nothing like the edge-of-your-seat action of a film featuring our four-wheeled friends. Does that mean we should compile our list of the top ten adrenalizing car movies of all time?
Absolutely!
So without further ado, and in no particular order, allow us to present to you our top ten car movies to grace the big screen…
The Italian Job (1969)
To begin our list of speedy super car flicks, it makes sense to start off with a British classic.
We have to hold our hands up and say that the 2003 revamp isn't half bad, but it can't hold a candle to the original (when do they ever?).
The 1969 cult classic sees cockney con artist Michael Caine put together an ambitious plan to steal $4million worth of gold from the streets of Turin by creating a traffic jam – brilliant!
It's quirky and full of giggles while featuring memorable scenes from the likes of gangster Noel Coward, awkward professor Benny Hill, and even boasts some numbers from the legendary Quincy Jones in the soundtrack.
Caine steals the show throughout and utters one of the most famous lines in movie history, "You were only supposed to blow the bloody doors off!"
Be honest, who just tried that in their best British accent?
The Italian Job is an undoubted classic in its own right, and without it, perhaps some of the other films in our list would never have been made.
Gone In 60 Seconds (2000)
What was that we were saying earlier about remakes never being as good as the originals? Just one film down and we're contradicting ourselves already.
The 2000 version of Gone In 60 Seconds may lose points for originality given that it is largely based on a picture of the same name from 26 years earlier, but it makes our list for the cars involved alone.
Aston Martin, Bentley, Dodge Viper, Ferrari, Lamborghini and Mustang are just a handful of super car names to feature in this Nicolas Cage effort, making it a must watch for fellow enthusiasts.
Oh, and there's also the fact that the original from H.B. Halicki is awful! The new millennium movie with Cage, Robert Duvall and Angelina Jolie is anything but, and keeps viewers on the edge of their seats throughout as the dream team attempt to steal 50 cars in 96 minutes.
It's fast-paced, thrilling and you can't take your eyes off it. Gone in 60 Seconds simply had to make our list.
The Fast and the Furious (2001)
With ten films already behind us in the "Fast" franchise, our list could quite easily have been made up of Vin Diesel movies and Vin Diesel movies only.
Who would have thought back when Diesel and the late Paul Walker teamed up over 20 years ago, the franchise would still be going strong? The likes of Michelle Rodriguez, Ludacris, Charlize Theron and Gal Gadot have all featured over the years, with Dwayne "The Rock" Johnson and Jason Statham making memorable appearances down the line.
The original sees Diesel take Walker under his wing as the pair make their money through illegal street racing and big-rig hijacking, with the latter working as an undercover cop.
Fast cars? Tick. Outrageous stunts? Tick. Twists and turns? Tick.
The Fast and Furious gets a big thumbs up from us.
The Gumball Rally (1976)
The inspiration for Gumball 3000 itself, The Gumball Rally simply had to feature on our list. The 1976 American comedy is directed by a former stunt man known as Chuck Bail.
The film surrounds a wealthy but bored businessman who uses the code word "Gumball" to gather his friends and fellow super car enthusiasts in New York to embark on a coast to coast race.
While today's Gumball 3000 extravaganza is more of a rally experience than a race across the country, it is clear to see where the inspiration came from.
A barrel of laughs and a stint down the same Los Angeles river where Danny Zuko would race Leo Balmudo at Thunder Road in Grease, what more could we ask for?
Smokey and the Bandit (1977)
Given that Smokey and the Bandit was originally released in Southern states only, completely bypassing the traditional media and critics that help promote a movie, it is testament to the quality of this 1977 cult classic that it ended up being the second biggest picture of that year, behind Star Wars.
Burt Reynolds plays the Bandit who is attempting to transport a truck full of Coors Beer across state lines, with Smokey Bear chasing him down after he picks up runaway bride Sally Field (Smokey's would-be-daughter-in-law) on his travels.
Brad Pitt's character in Once Upon A Time In Hollywood is based on Smokey director Hal Needham, and the movie has maintained its popularity all these years on.
Cars (2006)
Lightning McQueen – voiced by Owen Wilson – is forced to befriend vehicles that a race car destined for Piston Cup greatness wouldn't usually associate with – but by the time he eventually reaches the big race, his priorities have shifted to the wellbeing of his new friends. You see the similarities?
Want to know if McQueen wins the Piston Cup? You'll have to go and watch it!
Thelma & Louise (1991)
Granted, Thelma & Louise isn't what you would call a typical car enthusiast movie, but there is no denying that the sight of their green 1966 Thunderbird convertible speeding over the Grand Canyon is one of the most iconic scenes of all time.
And of course, their beloved motor features throughout the film as Geena Davis and Susan Sarandon attempt to flee from their lives of crime.
The finale is the scene that is talked about the most, and quite rightly too, but Thelma & Louise goes down in history for providing a feminist kick in an otherwise male-dominated genre, and we love them for it!
Mad Max: Fury Road (2015)
Which of the four Mad Max movies should feature in our list a difficult one to call, and is a debate we aren't going to start right now.
The Road Warrior is brilliant, but Fury Road gets the nod given the stunts involved in modern-day movies. George Miller gets the adrenaline pumping from start to finish, and Tom Hardy rarely features in a poor film.
Aside from all the stunts and relentless action, we are taken on a different kind of journey as the characters trying to survive in this dystopian world learn more and more about themselves as the film progresses.
Cannonball Run II (1984)
The Gumball Rally movie featured further up this list takes inspiration from the same source as Cannonball Run II – the Cannonball Baker Sea-To-Shining-Sea Memorial Trophy Dash run by Brock Yates. Both films had to be included, particularly with the likes of Dean Martin, Sammy Davis Jr, Jackie Chan and Frank Sinatra playing starring roles in this 1984 title.
Burt Reynolds is central to the storyline once again as he plays a driver aspiring to win the $1million prize sponsored by a wealthy sheik.
When the sheik is kidnapped during an angry feud with a mob boss, the race contestants must team up to get him back.
It's a laugh-a-minute movie with fast automobiles. What's not to love?
Baby Driver (2017)
Baby Driver is the most recent film on our list with the plot surrounding a young iPod-obsessed getaway driver trying to break free of his controlling mob boss.
Cars and music are the main features for a movie that switches between crime, drama, comedy, romance, action and even musical seamlessly, with some of the best choreographed car chases ever seen perfectly accompanying the brilliant soundtrack.
Without his music, getaway driver Ansel simply doesn't function. We sincerely hope the rally drivers at Gumball 3000 aren't so reliant on their tunes, but there will be plenty of top tracks to choose from along the way!
And there you have it! Vroom-vroom, baby.